I've been inspired by a few blogs to not only try to revamp an old and nearly unusable piece of furniture and turn it into a gorgeous piece of stunning furniture, but to also try to find a piece of furniture in need of this make-over for free (or nearly free.)
Look what I found at the side of the road:
Now, some may say "go put that nasty piece of garbage back and wash your hands, quick!"
but I see...
dead furniture
something. I don't want to give it away, but I really think I can do something kickin' awesome with it! I hope to have it completed Memorial Day Weekend, but don't hold me to that date. It really depends on how much rain we get this month so I can get this project sanded and painted outside.

I'm linking this to: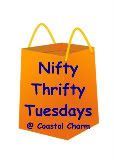 Blue Cricket Design