Materials:

6 pieces 12x12 cardstock, color of your choice
Scor-pal (optional, but most measurements reference the scor-pal)
1/4" width Tacky tape/red-line tape
Runner tape, like Tombow
1" circle punch (Marvy Uchida)
Foam tape or dimensional tape
Assorted holiday papers
Chipboard accents, rub-ons, brads and other items for decorating
Michael's brand wedding favor pre-made boxes
Cricut w/basic George for numbers or chipboard numbers

This calendar holds 5 boxes per row and measurements are for this size. The sleeve and boxes will be a snug fit, but over time and use the boxes and sleeves will loose shape and stretch. The snug fit assures the boxes will not fall out with an accidental knock or nudge.

Directions:
Cut all 6 pieces of cardstock to 7 1/8" x 11 3/8" reserve scraps
Score 6 large pieces length-wise at 2 3/8" and 4 3/4" (on scor-pal line long edge at 2 1/8" guideline and score on 4 1/2 mark. Flip paper and do again on opposite side.)
Fold on scored lines. This is the sleeve body without sides
Repeat with all large pieces of cardstock
From remaining cardstock scraps, cut 12 pieces measuring 3" x 3 3/8" and 1 piece at 2 1/8" square (set this one aside with
treat boxes).
On 3" x 3 3/8" paper, score length 5/8" (on scor-pal, line up length of paper at 1 1/2" guideline and score on 2 1/8" mark.)
Score width at 1/2" and 2 7/8" (or flip paper and score at 1/2" on opposite side.)
Trim corners out; fold on scored lines; Place tacky tape on all 3 scored flaps
Remove tape backing and adhere flaps to inside of sleeve, on edges. Start with back edges first, then top and bottom.
Repeat on other side. Complete other boxes. Using a liberal amount of tacky tape, adhere all 6 sleeves together.
For the Treat Boxes:
Cut decorative paper to 2 1/8" square pieces. You'll need 30 for the calendar
Have one unassembled box handy. Find your reserved 2 1/8" square of cardstock. This is your template for all future punched papers, so line it up accurately. Line up & center template square to card box front and mark the curve of the box front on the cardstock.
Using circle punch, measure halfway down with punch and punch out the curve/semi-circle from the template. With template you can measure on the back of your decorative paper and mark the curve and punch without having to measure against the boxes each time, or eye-ball the measurement and waste paper with each mistake. It's particularly handy when punching 30 (!!) box fronts.
Using runner tape (I highly recommend for speed and durability over glue) adhere the decorative paper to UNASSEMBLED box (a flattened box removed straight from the package) front. This makes it faster to decorate 30 (!!) boxes.
Assemble boxes and decorate with chip board accents, labels and numbers for the count down days. (Decorate with rub-ons before assembling boxes; it's much easier to "rub".) Use foam tape to lift some accents for added dimension. Enjoy the process and have fun!
I'm Linking to:
And
The Idea Room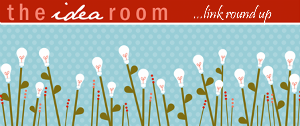 And: